lundi, 20 octobre 2014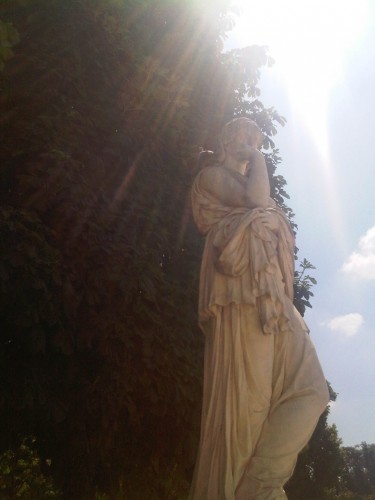 Crédits photographiques Jana Hobeika
Extrait de Romancing the Market, Brown, Doherty & Clarke, 1998, Routledge :
Pré-intro
Two hundred years ago the romantic movement precipitated a revolution in aesthetics, sensibility and thought. The neoclassical ethos of order, rectitude and rationality was replaced by an emphasis on creativity, innovation, individuality, spontaneity and imagination.
Marketing, as an academic discipline, is dominated by neoclassical ideals of dispassionate science, 'truth' and objectivity. The international contributors* to this volume argue for a neo-romantic approach to Marketing scholarship which will invigorate, infuriate and illuminate the discipline. [...]
By way of a prelude p.xviii
In our fragmented, de-centred, hyper-real, ever-accelerating fin de siècle marketing milieu, where mechanistic, technocratic, pseudo-scientific models of analysis, planning, implementation and control no longer seem to 'work', a radically different approach to marketing understanding is urgently required.
For many contemporary commentators, poets, novelists, creative artists and their copious late twentieth-century avatars - journalists, movie makers, television producers, stand-up comedians, etc. - can provide insights into the post-human condition that are as good as if not better than those derived from more established scholarly sources. [...]
p.xix
What's more, the notion that creative writers and artists are blessed with what Ernst Bloch terms 'anticipatory illumination', an ability to articulate the as-yet-inarticulate, to make the inchoate cohere, has been around for a very long time. [...]
Romanticism has been defined in a host of ways, but a central component is the enormous emphasis placed upon the imagination, the inspiration, the inner light of the creative writer and artist. The work of the romantics didn't so much passively reflect as actively illuminate that to which it referred. Illumination, as Abrams rightly observes, is the apotheosis of romanticism.
Illumination, tu be sure, is a wonderful word. Apart from its connection to the romantic movement, it carries connotations of Arthur Rimbaud, secret societies, stained-glass windows, medieval scriptoria, illuminated manuscripts, Welter Benjamin and, Heaven help us, the recent comeback album by 1970s' rock band, Wishbone Ash. For many Britons, moreover, illuminations is evocative of Blackpool, that vulgarian of urbanism, that civitas of the carnavalesque, that municipality of marketing. Blackpool, in many ways, is a perfect metaphor for marketing scholarship. It caome to prominence approximately 100 years ago ; it reached its peak in the late 1950s-early 1960s ; and, according to some authorityies, it is in terminal decline despite increasingly desperate attempts to add to its attraction ('roll up, roll up, Relationship Marketing, the biggest white elephant of the world'). Marketing practice, what is more, has long been characterised by the irreverent, bawdy, candy-flossed, end-of-the-pied, saucy picture postcard, dirty weekend spirit that is embodied, indeed epitomised, by Blackpool ('buy one get one free", "I can't believe it's not butter', 'FCUK' and, naturally, 'Beaver Espana').
p.xx
[...] ... about the romanticism of marketing on St Valentine's Day, of all days. Not only does St Valentine's Day epitomise the commercialisation of love - marketing the romance, so to speak - but the festival commemorates an early Christian priest, who was beheaded in 269CE for conducting the marriage ceremonies of covert lovers, though some say it was because he cured and converted the blind daughter of a Roman official. Yet others maintain that it was Valentine's voluminous outpouring of inflammatory letters and pamphlets during his incarceration - hence the tradition of sending cards - that precipitated the death penalty.
Be that as it may, this combination of decapitation, deception and discourse, with just a frisson of Levittite astigmatisme, cannot fail to send shivers down the spine of late twentieth-century marketing scholars. [...]
_ _ _
* Contributors are Eric J. Arnould, Russel W. Belk, Stephen Brown, Bill Clarke, Anne Marie Doherty, Benoît Heilbrunn, Morris B. Holbrook, Christian Jantzen, Pauline Maclaran, Andrew McAuley, Per Ostergaard, Cele Otnes, Paul Power, Linda L. Price, Barbara B. Stern, Lorna Stevens, Craig J. Thompson, Robin Wensley
** Marxist German philosopher, 1885-1977 > http://en.wikipedia.org/wiki/Ernst_Bloch
_ _ _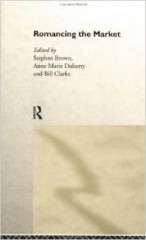 Se procurer l'ouvrage :
Romancing the Market
Stephen Brown, Anne Marie Doherty, Bill Clarke

1998
Ed. Routledge
312 pages
http://www.amazon.fr/Romancing-Market-Stephen-Brown/dp/04...