jeudi, 11 septembre 2014
Considérations sur l'argent - Money Science
This is science money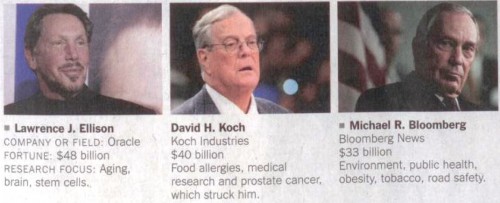 "Face of science is reshaped by billionaires", William J. Broad, The New York Times supplément au Figaro et vous, supplément au Figaro, 25 mars 2014 :
As public spending cuts result in labs shut down, scientists laid off and projects shelved, a profound change is taking place in the way science is paid for and practiced.
"For better or worse," said Steven A. Edwards of the American Association for the Advancement of Science, "the practice of science in the 21st century is becoming shaped less by national priorities or by peer-review groups and more by the particular preferences of individuals with huge amounts of money."
Science is increasingly becoming a private enterprise. From Silicon Valley to Wall Street, science philanthropy is hot, as many tycoons seek to reinvent themselves as patrons of social progress through science research.

More than a decade ago, Paul G. Allen, a founder of Microsoft, set up a brain science institute to which he donated $500 million. Fred Kavli, a technology and real estate billionaire, then established three brain institutes. It was this richely financed private research that gave birth to what President Obama last April called "the next great American project" - a $100 million initiative to probe the mysteries of the human brain.
The very rich have also mounted a private war on disease, with new protocols that beak down walls between academia and industry to turn basic discoveries into effective tratments. They are financing hunts for dinosaur bones and giant sea creatures. They are even beginning to challenge Washington in big science, with innovative ships, undersea craft and giant telescopes - as well as the first private mission to deep space.
These are people like Michael R. Bloomberg, the former New York mayor (and founder of the media company that bears his name), James Simons (hedge funds) and David H. Koch (oil and chemicals), among hundreds of wealthy donors. Especially prominent, though, are some of the biggest names in the tech world, among them Bill Gates (Microsoft), Eric E. Schmidt (Google) and Lawrence J. Ellison (Oracle).
They are donors who are impatient with the deliberate, and often politicized, pace of public science, they say, and willing to take risks that government cannot or simply will not consider.
Yet that personal setting of priorities is precisely what troubles some in the science establishment. Many of the patrons, they say, are ignoring basic research for a jumble of popular, feel-good fields like environmental studies, space exploration and, as in the case of Russia's Dimitry Itskov, a former media magnate, lifelike avatars.
Nature, a family of leading science journals, has warned that while "we applaud and fully support the injection of more private money into science, the financing could also "skew research" toward fields more trendy than central."
"Physics isn't sexy," William H. Press, a White House science adviser, said. "But everybody looks at the sky."
[...]